In the past, a driver's friend often asked me if my driver's license was A1's ability to open a wrecker. For this issue, Xiao Bian didn't know much about it. However, after verifying, Xiao Bian now knows the answer. . Nowadays, high-speed wreckers do not require drivers' licenses to be different from ordinary road wreckers.

What kind of driver's license is required to drive a car, and the larger the driver's car, the higher the driver's license required. Most drivers who have not driven wreckers do not know their requirements for driving licenses. They do not know what kind of driving licenses they can use to open a wrecker, and what conditions are needed to open a wrecker. After summarizing and summarizing Xiao Bian, the following questions will be answered for you.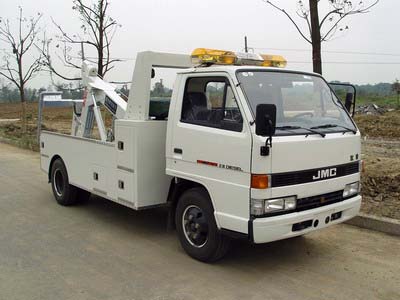 According to the Wrecker license plate type, it can be divided into the following two points:

First, blue car: C can drive above

Wrecker must have the conditions: the length of the vehicle must be less than 6 meters; the tonnage of the household does not exceed 1.5 tons; the total mass must be less than 4.5 tons. Including the blue card Dongfeng Rui Ling tow two wreckers, blue card Isuzu tow two wreckers.

Second, yellow card car: B according to the above can be driven

Wreckers must have the conditions: wrecker vehicles greater than 6 meters in length are yellow cards. Including the Dongfeng Doolika wrecker, JAC dragging a wrecker, Isuzu wagon two wrecker, Dongfeng Tianjin wrecker and other large and medium-sized towing crane. However, if you have a B card, you can drive a blue card. This means that the higher your certification level, the more types of models you can drive.

According to the obstacle clearing method, it can be divided into the following two points:

First, the model B2 driver's license can be towed on the wrecker

Second, the failure of the car on the ground to take the A2 (tractor) driver's license

Editor's Note: The wrecker is a vehicle designed for roadside assistance. Its operation is very simple and there are no special requirements for the driver. You can drive as long as your driver's license is up to level.
Our products are rigorous in manufacturing, high quality and reliable in operation. Our products are exported to many countries and are well received by users. We off OEM services to global customers and we can manufacture slurry pumps or spare parts according to the construction drawings and samples. The parts can be made of nonmetallic materials, include:
1.rubber materials
The rubber materials are suitable for conveying abrasive slurry or corrosive slurry without sharp particles (such as river sand) or fine particles (d<0.5mm).
2.Polyurethane elastomeric materials
The polyurethane elastomer materials have physical dynamic properties similar to rubber, but have better wear resistance than rubber, especially in working conditions of wet media such as water and oil, and their wear resistance is usually several times better than ordinary rubber materials.
Nonmetallic Material Spare Parts
Nonmetallic Material Spare Parts,Nonmetallic Fabricated Materials,CNC Nonmetallic Material Spare Parts,Quality Nonmetallic Material Spare Parts,Rubber liner part,Nonmetallic Material Parts
Shijiazhuang Soarho Machinary Co.,Ltd , https://www.xhslurrypump.com